2022 IIBD International Case Competition (~5/31)
2022.04.20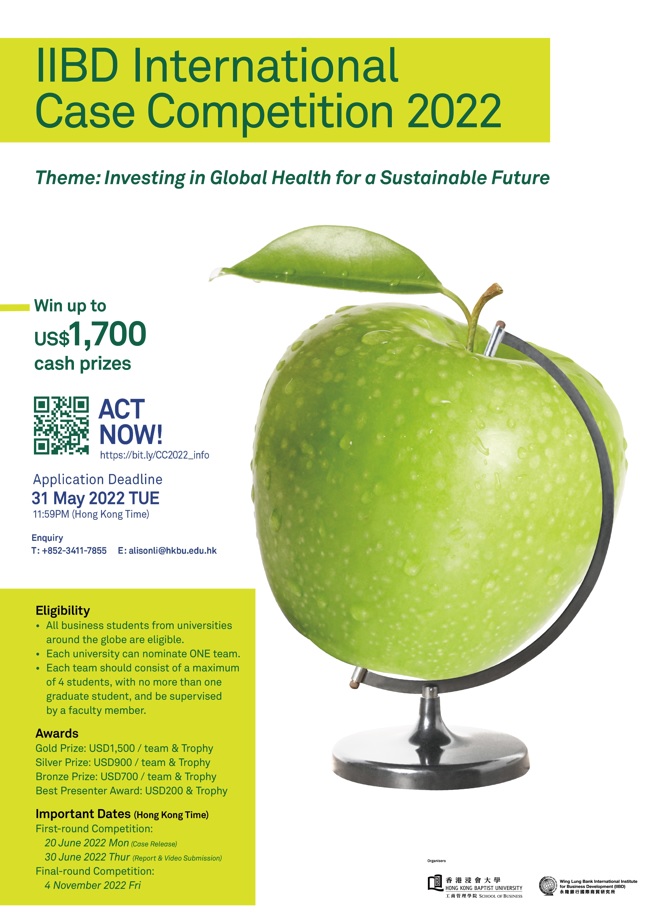 We cordially invite you and the business students from your esteemed University to join our 2022 IIBD International Case Competition organised by HKBU School of Business and the Wing Lung Bank International Institute for Business (IIBD).
Established in 2008, this is the 14th year that we host the Competition where all business students from IIBD member or non-member universities worldwide are welcome. The theme this year is "Investing in Global Health for a Sustainable Future". Based on the case analysis report and pre-recorded presentation video to be submitted in the First Round by 30 June 2022, five finalist teams will be selected to enter the Final Round of the Competition on 4 November 2022 to compete for the Cash Prizes up to US$1,700.
The Final Round Competition is planned to be held on-campus at HKBU in Hong Kong (the Organising Committee will continuously monitor the COVID-19 situation and decide if the competition needs to be moved online by mid-September 2022). Accommodation from 3 to 6 November 2022 (3 nights) will be provided for all non-local finalists.
Please note that each university can nominate one team that consists of a maximum of 4 business students (with no more than one graduate student per team). Students of the same team must come from the same institution at the time of application. The team should be guided by a Faculty Supervisor as well.
For more information, please visit our School website: https://iibd.hkbu.edu.hk/eng/international-competitions/cc2022/index.jsp
If your University is interested in joining this Competition, please complete the online applicabtion form on or before 31 May 2022, 23:59, HKT. It would be much appreciated if you could share the above information with your students, friends or colleagues, and encourage them to participate in this Competition.
Should you have any enquiries, please contact my colleague Alison via email [email protected], or by phone (+852) 3411 7855.
Thank you very much!
Yours sincerely,
Professor Gerard Prendergast
Associate Dean (Internationalisation)
School of Business
Hong Kong Baptist University (HKBU)